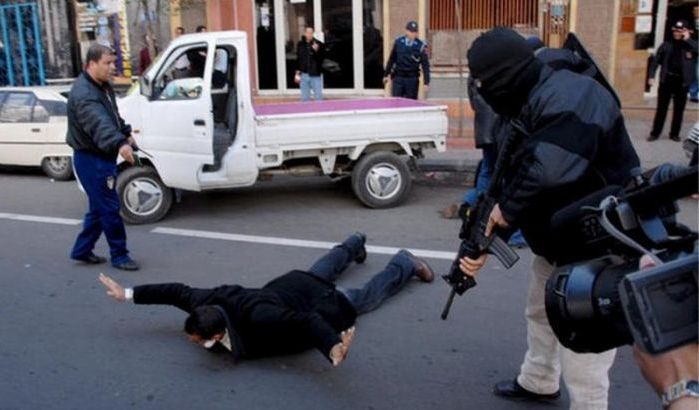 Moroccan authorities have announced this Wednesday the arrest of 52 Islamic State suspects who were planning terror attacks in the North African kingdom.
The Isis militants were captured in an impressive anti-terror operation launched by the Moroccan security services which seized weapons and bomb-making materials.
The 52 arrested were among 143 people investigated in many Moroccan cities and towns, said a statement released by the interior ministry.
They were planning to create an Islamic State province (Wilayat) in Morocco, added the statement, noting that the militants were also planning to kill Moroccan security and military officers as well as tourists, and launch terror attacks targeting prisons and festivals and other institutions in the country.
Morocco's Central Bureau of Judicial Investigation, the judicial part of the Moroccan domestic intelligence service, has tracked suspected militants since Islamic State established itself as a global threat.
The North African kingdom, an ally of the West against Islamist militancy, has been on high alert since 2014, when IS took control of large swathes of northern Iraq and Syria.
Morocco has dismantled 38 suspected militant cells with Islamic State ties since 2013, the statement said, adding 159 cells had been found since 2002.
The North African country has been the target of militant attacks, most recently in 2011 in Marrakesh, when an explosion in a cafe killed 15 people, mostly foreigners.
Morocco has worked out a comprehensive counterterrorism strategy that includes vigilant security measures, regional and international cooperation, and counter-radicalization policies.
This strategy has been built on a global approach based on prevention, anticipation, education, rehabilitation, eradication of terrorism roots and international cooperation.
The North African country has placed counterterrorism at the top of its priorities following the Casablanca terror attacks in 2003 and the subsequent attacks of 2007 and 2011.
In 2015, Morocco's counterterrorism efforts mitigated the risk of terrorism but the country continues to face threats, largely from numerous small, independent violent extremist cells.
According to foreign intelligence reports, approximately 1,500 Moroccans are believed to have joined terrorist organizations since 2011, with 719 fighting alongside ISIS.
The Moroccan government is concerned about the potential return of veteran Moroccan jihadist fighters from those conflict zones to conduct possible terrorist attacks at home.