Yemen: Warring Parties Return to Negotiation Table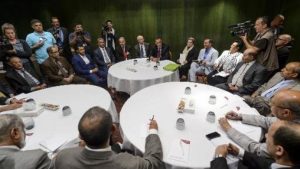 Negotiations between Yemen's warring parties began in Kuwait after the Aid-break. UN special envoy Ismail Ould Cheikh Ahmed pointed out that talks will be centered on maintaining "cessation of combat actions in a full and comprehensive manner, activate the pacification committee and other commissions namely the military one tasked with overseeing fighters' withdrawal, arms handover and opening safe passage routes for dispatch of humanitarian aid."
The talks have not stopped the fighting in Yemen as clashes and explosive attacks continue on both sides. Special envoy Ismail reminded the delegates that they have reached "a critical period of time" wherein both Yemenis and international communities are monitoring the progress of the talks.
The basis of the talks continue to be the UN Security Council resolution 2216, outcome of the Yemeni national dialogue and the Gulf Cooperation Council (GCC) initiative, but the two parties engaged in the talks continue to disagree on the points to agree on.
Ahead of the beginning of the new round of negotiations, Ismail held separate meetings with the delegates of the Houthi Movement and the Yemeni government. He discussed several political, security and humanitarian issues with them while buttressing on the need for a compromise to end a war that has killed more than 6500 people and displaced 2.8 million.
The two sides, in a released statement, agreed on not pursuing "any other agendas or diversions" in the talks except for those that had been previously agreed upon before the break. However, president Hadi has warned that his government will withdraw from the talks if Ismail tries to "legitimize" the coup d'état of the Houthis with his proposal of forming "a coalition government."
Short URL: https://me-confidential.com/?p=13176