Lebanon to become a failed state if crisis continue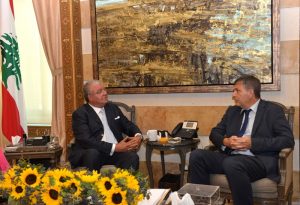 Plilippe Lazzarini, head of the UN Humanitarian Operations for Lebanon and Deputy Special Coordinator for the country, warned that despite all the efforts of the international community to end the crisis in the country, "the vulnerability of the people is declining year after year."
Lebanon has been without a president for more than two years and there are no signs that the political impasse would end any time soon.
Prime Minister Tammam Salam recently criticized his government as "fruitless and incompetent" but distanced himself from resigning due, he said, to "ethical and national responsibility and out of fear to push the country into the abyss of vacuum."
Lazzarini who also serves as the UN Development Program Resident Representative in Lebanon told reporters at the UN Headquarters that ending the presidential vacuum is "a priority because the absence of a president is impacting the smooth running of the institutions." He added that the situation, which has been going on for more than 2years, has weakened state institutions.
Prime Minister Salam warned that the security and financial institutions are the only "twin pillars" preventing the country from a total collapse and showed concerns about how long they could resist the situation. He urged politicians to forgo personal interests and promote national interests. "The stability we have enjoyed in the past five years is not an infinite and irreversible situation unless we seek to immunize it", he stated.
Considering the political, economic and social challenges that the country is facing, Lazzarini said a "comprehensive and multi-faceted economic approach" is needed because "clearly, there is no country in the world which alone can cope with so many challenges at the same time." He urged the international community to help Lebanon face its crisis because it is "a country that is extraordinary important to regional dynamics."
Short URL: https://me-confidential.com/?p=13008
Posted by
Jaber Ali
on Jun 23 2016. Filed under
Headlines
,
World News
. You can follow any responses to this entry through the
RSS 2.0
. Both comments and pings are currently closed.