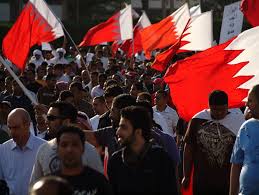 New protests have surged in Bahrain calling for political and democratic reforms and protesters rallied near capital Manama to show support to Sheikh Ali Salman, the imprisoned leader of the main opposition bloc al Wefaq National Islamic Society.
The protesters promised to carry on with their demands through a peaceful campaign as they brandished portraits of Salman and Bahraini flags.
Authorities have always acted strictly against protests and Ambassador Jamal Fares al Ruwaie, the country's Permanent representative to the UN, told the UN Security Council during an open debate on combating terrorist organizations' ideological discourse on Thursday that Bahrain will continue its uncompromising stance against all forms of terrorism regardless of the motives, the perpetrator, or the funder.
Salman, arrested in December 2014, was accused of attempting to overthrow the government and collaborating with foreign powers. He was known for his strong criticism against the government and continuous calls for political reforms towards constitutional monarchy.
Al Wefaq bloc is dominated by Shia parties and is allegedly cooperating with foreign powers, namely Iran and Hezbollah repeatedly accused of attempts to destabilize Bahrain.
Ambassador Ruwaie said Bahrain is "dealing with terrorism and terror organizations in accordance with the existing laws" and urged the Security Council to work towards cutting their funds and their abilities to recruit foreign terrorist fighters.