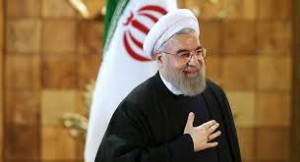 Britain, France, Germany and the United States denounced the missile tests conducted by Tehran as challenging the UN resolution 2231 because they can result in nuclear weapons.
This came in a joint letter they addressed to the UN Secretary General Ban Ki-moon and to Spanish ambassador to the UN Roman Oyarzun Marchesi, Spain being tasked with coordinating Security Council discussions on resolution 2231 which bans Iran from conducting ballistic activities related to nuclear weapons.
The letter noted that several missile launches conducted by Tehran as part of military tests were "in defiance of" the resolution as they are "inherently capable of delivering nuclear weapons." The letter also expressed the Western countries' concerns about Iran's intentions stating that "Iranian military leaders have reportedly claimed these missiles are designed to be a direct threat to Israel."
Two permanent members of the Security Council, Russia and China, are against the letter's request for appropriate responses to be taken by the council through sanctions and diplomats in the council seemingly agree that the missile launches violate resolution 2231 but the core of the nuclear agreement between Iran and the P5+1 is not violated.
They say the call for action against Tehran is not legally binding and does not warrant the implementation of Chapter 7 of the UN Charter which covers sanctions and authorization of military force.
Sanctions on Iran concerning its controversial nuclear agreement were lifted in January after an IAEA report and Tehran has warned that new sanctions will render the nuclear framework agreement sealed in July void.
France is suggesting that European countries unilaterally sanction Iran but since the beginning of the year, European countries have been engaged in trade and bilateral discussions with Tehran.
Meanwhile President Rouhani was to arrive in Austria on Wednesday but the visit was "postponed by the Iranian side for security reasons" according to the Austrian presidency.