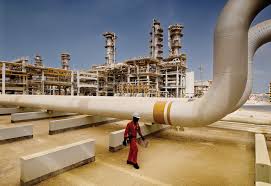 Kuwait and Saudi Arabia have reached an accord to begin production at the jointly operated Al-Khafji oil field where production was halted in October 2014 but differences still remain over the Wafra oil field.
The announcement was made by Kuwaiti Finance minister and acting oil minister Anas al-Saleh during a parliamentary debate on Tuesday. He said that "an agreement has been reached with the Saudi side for Aramco to resume production." The oil field is operated by Al-Khafji Joint Operations Co, a joint venture between AGOC, a subsidiary of Saudi state oil firm Aramco, and Kuwait Gulf Oil Co.
Operations at the site was halted due to environmental issues according to the Saudis but Al-Saleh told Kuwaiti lawmakers that "some maintenance contract has been amended to produce volumes that are in line with environmental requirements" and production will be in "small quantities" at first before increasing "gradually" to reach "normal" output capacity "when all these (environmental) requirements are met."
Al-Khafji has a production capacity of around 300,000 barrels per day and lies between the Kuwaiti and Saudi border. Production is equally divided between them.
Talks to resume production began in June last year and arriving at an agreement was welcomed by Kuwait's First Deputy Prime Minister and Foreign Minister Sheikh Sabah who stated that "no technical dispute" can affect the bilateral ties with Saudi "for any reason" because they "absorbed much in the past and are destined for more cooperation and support in all fields now and in the future." The date for the resumption of operations was not stated.
It is unclear however if negotiations are ongoing to restart production at the around 200,000bpd Wafra oil field halted since May 2015.