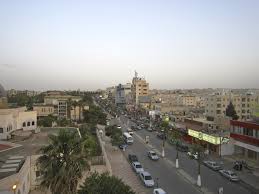 Exchange of gun shots between Jordanian security forces and an armed group in the northern city of Irbid close to the border with Syria took place on Tuesday.
The unidentified gunmen are claimed to be "outlaws" according the government and the state-run Petra news agency reported that some fighters were killed while three security officers sustained injuries.
Video footages published by local media purportedly from the scene featured heavy gunfire. Early reports claimed that the fighters are members of the Islamic State probably due to Irbid's closeness to the Syrian border.
In January, Israel warned that Jordan could become a target for the extremist group. Lieutenant-General Gadi Eizenkot, chief of Israel's armed forces, said "the successes against ISIS" by Russian and pro-Assad forces "raise the probability… that we will see them turning their guns both against us and against the Jordanians." He thinks that Yarmouk Martyrs' Brigade could attack Israel and Jordan after it fought against Nusra Front and Ahrar al-Sham for the control of territories next to the Israeli-occupied Golan Heights and close to northern Jordan. The Brigade is believed to have close ties with IS.
Amman has not yet identified the attackers and no group has claimed responsibility yet. Some officials and local media described the gunmen as "extremists" and it is not clear whether any organized group is behind the incident.
Jordan joined the US-led military coalition in December 2014 to "ensure the stability and security" of its borders following the brutal assassination of its pilot Moaz al-Kasasbeh by the IS after three months in captivity. His warplane crashed in Syria while on a mission.