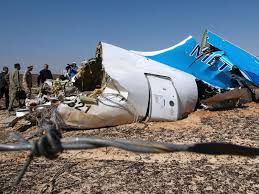 After months of claiming that investigations did not find any foul play concerning the Russian airplane that was downed over the Sinai desert shortly after takeoff from Sharm el-Sheikh airport on October 31, Egypt hinted without clearly stating it that terrorists could have been behind the act.
In a televised speech on economic development challenges, President Abdelfattah Sisi alluded that the plane crash was a terror act, but without going as far as acknowledging clearly that it actually was.
"Whoever downed the Russian plane, what did he mean? He meant to hit tourism, and to hit relations with Russia," the president, known for his off the script statements, said.
Although Egypt is reluctant to confirm that the airplane was downed by the Islamic State (IS) group, Western countries and Russia affirm that there was an explosion shortly before the crash. All 224 people on board were killed and most of them were Russian tourists.
Some think that Sisi's half-expressed confession is understandable because an official confirmation would affect the tourism sector; one of the key contributors to the economy and a major source of employment. Besides, a confirmation by Cairo would mean paying compensations to the victims' relatives, something the state can barely afford at the moment.
Shortly after the air crash and after Russia suspended all flights to Egypt President Sisi had blamed the West and its media of trying to hurt the country's tourism sector, labeling IS claim of the attack as "propaganda."
A defiant and confident sounding Sisi told Egyptians that he knows the "remedy" to the country's problems and urged them to "please, don't listen to anyone but me" while warning he would "remove from the face of the Earth" those planning to sabotage the state.