Syria: Plan A to be Followed by Plan B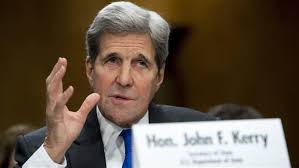 US Secretary of State John Kerry told the Senate Foreign Relations Committee that the White House has a "plan B" if the ceasefire expected to begin on Saturday in Syria fails.
An agreement was reached between the US and Russia for a "cessation of hostilities" between pro-Assad forces and rebel opposition groups but pessimism continues as some rebel groups on the ground already sidelined it.
Kerry applauded Russia's cooperation to broker the deal and said he relied on it for its implementation stating that "we're going to know in a month or two whether or not this transition process is really serious" as the ceasefire is "the test" ahead of the elections.
He revealed that "there are certainly Plan B options being considered" by the White House.
The Islamic State, al-Qaeda affiliated al-Nusra Front and other "terrorist" groups designated by the UN Security Council are not part of the agreement.
Assad's government stated that it would combat the extremist and "terrorist" groups "in accordance with the Russian-American announcement" while the opposition High Negotiations Committee conditioned that the acceptance of the agreement depends on lifting sieges, releasing prisoners, halting bombardments and allowing access to aid.
Turkey said shelling of Kurdish groups in Syria will continue "if necessary" and president Hollande of France stressed that "the sooner" the agreement is respected, "the better" for Syria while calling for pressure on Damascus and Russia for the bombings to stop.
Commander Abu Ibrahim of the 10th Brigade opposition force in northwestern Lataika province said "numerous rebel groups" would reject the agreement because it was reached "without consulting any factions on the ground." He concluded that "it's a waste of time and it's difficult to implement on the ground."
Short URL: https://me-confidential.com/?p=11977
Posted by
Peter Mulvany
on Feb 24 2016. Filed under
Gulf News
,
Headlines
. You can follow any responses to this entry through the
RSS 2.0
. Both comments and pings are currently closed.