Lebanon: Political Stalemate Will Worsen if KSA not Supported, March 14 Alliance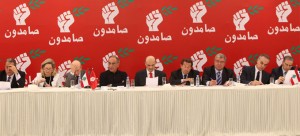 Lebanon is in disarray following Saudi Arabia's decision to cancel a $3billion arms aid and the March 14 Alliance, close to Riyadh, warned that the country is in a "dangerous row" with the oil rich kingdom and its ties with the Arab world are in "danger."
The Alliance urged the government to "take a clear and firm stance confirming Lebanon's commitment to Arab solidarity." The Gulf Cooperation Council (GCC) supported the Saudi decision against "Lebanon's official positions that contravene pan-Arab consensus" and are contradictory to "the deep relations… and the great support" from the GCC.
Riyadh is unhappy with Beirut's failure to condemn the storming of its embassy in Tehran and reluctance to support resolutions against Iran at the League of Arab States and the Organization of Islamic Cooperation meetings.
Saudi Press Agency quoted an unnamed official stating that Hezbollah has "hijacked the will of the state in Lebanon" and is "perpetrating terrorism against Saudi Arabia, the Arab Nation and the Muslim Nation."
The decision was followed by the resignation of the Lebanese Justice Minister Ashraf Rifi on Sunday citing the "deviation" of the government by Hezbollah and the release of ex-Information Minister Michel Samaha on bail after only serving 8 months of a 54-month jail term.
GCC secretary general Abdullatif Al Zayani said "Lebanon's decision-making has been taken hostage by foreign regional powers" turning it against pan-Arab interests and security. March 14 Alliance warned that "if Hezbollah and its allies continue – through illegitimate arms — to put Iran's interest before Lebanon's higher interest", matters would worsen.
The Alliance renewed support to Saudi Arabia and other GCC members while rejecting Lebanon becoming "a base for hostility against any Arab country."
The March 14 Alliance, led by MP Saad Hariri and named after the date of the Cedar Revolution, is a coalition of political parties and independents in Lebanon formed in 2005. The Alliance members are united by their anti-Syrian regime stance and their opposition to the pro-Syrian regime March 8 Alliance.
Short URL: https://me-confidential.com/?p=11947
Posted by
Jaber Ali
on Feb 22 2016. Filed under
Energy
,
Headlines
,
World News
. You can follow any responses to this entry through the
RSS 2.0
. Both comments and pings are currently closed.