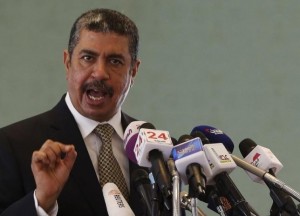 Prime Minister Khalid Bahah returned to Aden on Monday after leaving the city for Riyadh in October following an attack on the Al Qasr hotel, the base of the Hadi-led government and coalition forces, by the Islamic State group.
The government will now be based at the Republican Palace in Aden and spokesperson of the Yemeni government Rageh Badi said "some ministers" will be based in the cities of Hadramout, Marib and Socotra.
Not all the ministers returned to the war torn country as some will continue to be in Riyadh but "most of the ministers are in Aden" Badi stated. The finance, interior and oil ministers were among those who made the trip. He however admitted that security continues to be "the main challenge" but the government will work with its allies to overcome it.
Aden is not fully under the control of the Hadi government as al-Qaeda continues to impose its authority in certain districts around the city after helping pro-Hadi fighters and the coalition to oust the Houthi Movement. The Islamic State group also continues to target authorities in suicide attacks, one of which killed the governor of Aden Gaafar Mohammed Saad in December.
Attacks are still ongoing in the city and on Monday, al Qaeda attacked public institutions in Al Hawta district in Lahj, the province surrounding Aden, before taking over the area. The militants took over Zinjibar district in Abyan province last month, 50 kilometers east of Aden.
Meanwhile, Doctors Without Borders (MSF) demanded that the warring parties in Yemen spare public places, hospitals and medical facilities from attacks in accordance with the international humanitarian law. MSF structures have been struck by airstrikes in Yemen and Afghanistan.