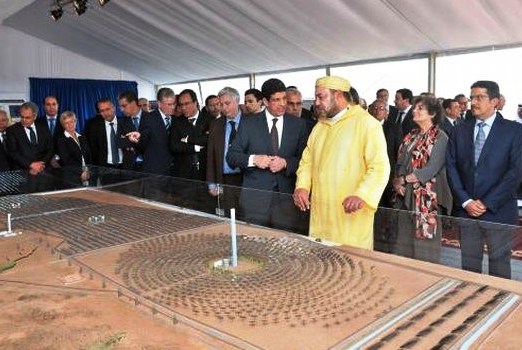 Morocco, which will host the next UN conference on climate changes (COP22), is giving more visibility to foreign investors regarding the North African country's ambitious plans set out in renewable energies to reduce emissions of greenhouse gases et boost green economy.
In a bid to streamline management of this sector, King Mohammed VI has entrusted Moroccan Agency for Solar Energy (MASEN) with steering renewables (solar, wind & hydro-power).The move is meant to harmonize Morocco's energy policy seeking to develop renewable energy to provide 42 pc of electricity by 2020 and 52 pc in 2030.
A press release issued by the King's Office says the National Office of Electricity and Water Supply (ONEE) and MASEN will be working in symbiosis to enhance the country's standing in the continent and global leadership in renewable energies.
Morocco has unveiled plans to continue its renewable energy development policy beyond 2020 with about 2,500 MW wind, solar & hydro capacity to come online between 2021 and 2025.
Wind power will be able produce 1,000 MW between 2021 and 2015 while solar will contribute at least 1,100 MW and hydro will add some 450 MW.
In the next decade, Morocco is planning to upgrade its renewable energy generation capacity by 6,760 MW, in which solar power will bring the majority with 3,120 MW, wind will add 2,740 MW and hydropower will grow by 900 MW.
Morocco, which imports 94 pc of its energy as fossil fuels from abroad, is poised to become a solar superpower with its mega-project in Ouarzazate. The first phase of this project is called Noor-1 and is expected to produce 160 megawatts. The project's next phases – Noor 2 and Noor 3 – are to follow in 2016 and 2017, and a call for tenders is open for Noor 4.
Once all phases are complete, Noor will be the largest solar power production facility in the world, covering an area of 30 sq km. It will generate 580 megawatts and provide electricity to over one million homes.