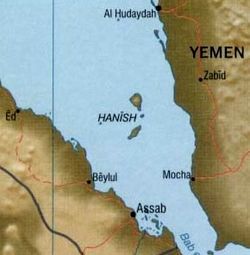 Coalition forces have taken over the Yemeni Red Sea archipelago after a long battle with the movement and their allies withthe Saudi State television reporting that the forces have "cleansed Greater Hanish"; the biggest island in the archipelago. The Houthis control most of north Yemen from Taiz in the south to Saada in the north, giving them control of Yemen's Red Sea coast.The forces claimed that the area was used for storing and smuggling weapons into Yemen through the sea port in Hodeida.
The Saudi-led coalition began its operations on March 26 but it is still unable to restore president Hadi as the country's legitimate president. Talks between the government, Houthi Movement and the General National Congress would take place next week to end the fighting. Abdul-Malik al-Houthi, leader of the movement, in a message posted on Facebook stated that they are ready for a "serious and responsible dialogue"after submitting the much-awaited list of their representatives for the talks. One of the main objectives of the meeting will be agreeing on a ceasefire and expanding the scope of access to humanitarian and relief aid.
Members of the Gulf Cooperation Council (GCC) are the main supporters of the Hadi government and at the end of their organization's 36th summit in Riyadh renewed their support for a political agreement in accordance with the UN Security Council resolution 2216 and Yemen's National Dialogue Initiative. They stated their will to integrate Yemen's economy with that of the GCC and called for an international conference to be held when "stability and security" returns to Yemen.
Gulf States accuse the Houthis of a coup d'état against Hadi's government and promoting Tehran's agenda but the movement claims a revolution against a corrupt government.