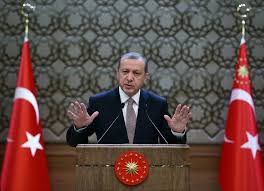 The sidelines of the ongoing UN climate talks have been a battle of words between Russia and Turkey as Presidents Putin and Erdogan continue to refute each other's accusations over the downing of the Russian Sukhoi Su-24 warplane last month. Putin claimed that Ankara attacked the jet because it wanted to secure its oil trade with ISIS contrary to official statements that its airspace was violated. Meanwhile Erdogan argues that his country is not engaged in such "dishonest" exchange with terrorist groups and calls Russia to produce evidence of its claims. The Turkish president has vowed to step down from office if allegations of oil dealings are true for the "nobility" of the nation.
Erdogan requested with insistence to meet his Russian counterpart during the summit but the request was turned down as Putin continues to snub Ankara unless an official apology is issued.
Turkish Prime Minister Davutoglu stressed that the "protection of our air space, our border, is not only a right but a duty for my government, and no Turkish premier or president … will apologize [for] doing our duty."
A string of sanctions against Turkey have been issued by Moscow but authorities in Ankara want talks to be held. President Erdogan said that they will act with "patience" because ties between the two countries had developed into a strategic partnership before the incident and it is preferable for both countries not to make "emotional statements."
Russian Prime Minister Dmitry Medvedev said the announced sanctions, bans and restrictions are part of a "first step" of Russia's reaction but his Turkish counterpart said they are ready to talk, provide information or normalize relations.
The body of one of the pilots that was killed by rebels as he parachuted from his aircraft was handed over to Russia
© 2015 Microsoft Conditions Confidentialité et cookies Développeurs Français