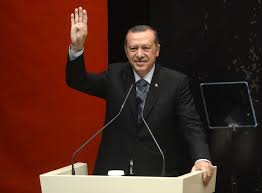 Prime Minister Ahmet Davutoglu presented the new Turkish government and most of those who were in the former cabinet were maintained. Former Deputy Premier Babacan is one of the key names omitted on the new list.
The new cabinet, dominated by President Erdogan's loyal allies, is expected to help Erdogan continue with his project of establishing a strong presidential system. His party won the majority in the parliament, but fell short of acquiring the two-thirds majority needed to change the constitution.
One of the main issues that would dominate the debate over the set-up of the cabinet is the appointment of Erdogan's son-in-law, Berat Albayrak, as the energy minister following unconfirmed reports that the prime minister was against his inclusion in the government.
Albayrak was until late 2013 the chief executive of the Calik Holding conglomerate but has more recently been writing economic commentaries in pro-government newspapers.
Former finance minister Mehmet Simsek was appointed as Deputy Prime Minister in replacement of Babacan. Both personalities are trusted figures in global financial markets.
The cabinet has two females who will head the Family and social policies ministry and the Environment ministry. Foreign minister Mevlut Cavusoglu will continue serving in the same post as well as Interior minister Efkan Ala.
Prime Minister Davutoglu said the new cabinet will prioritize structural reforms till 2019 while economists think that AK party's victory will send positive signals to investors and boost economic growth.