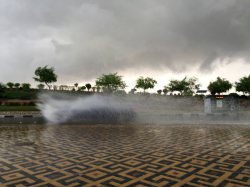 An overnight rainfall in Qatar brought daily activities to a halt, unveiling flawed projects and prompting Prime Minister Sheikh Abdullah bin Nasser bin Khalifa al-Thani, angered by the extent of the flooding, to order an inquiry into the conformity of the projects specifications.
Qatar Meteorology Department sated that the amount of rainfall received on Wednesday was more than the country's annual rainfall with some areas receiving more than 66millimetres. Areas around the newly built Hamad International Airport received around 80 millimeters. The World Bank calculates that Qatar receives, on average, 74 mm of rain each year.
The rains falling for several hours in the region forced businesses and schools to close in Qatar and Saudi Arabia while many roads were impassable.
Prime Minister Al-Thani who called for an inquiry into the flawed projects that were revealed by the rainy weather said the stakeholders and companies responsible for the defects must be referred to the public prosecution.
As many as five unnamed companies could face prosecution, according to the government communications' office.
One of the affected projects is the estimated $17 billion Hamad International Airport inaugurated last year. Leaks at the facility surfaced on social media platforms. Flights however were not affected.
The scenarios which emerged after the rain are expected to ignite the debate over the 2022 FIFA World Cup that would be held for the first time in the Middle East and pushed from its traditional summer schedule in June and July to November and December to suit Qatar's weather conditions rather than playing under its fierce summer temperatures.