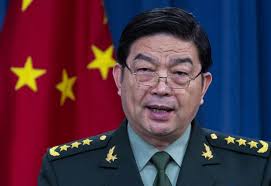 China has asked for an upgrade of its military ties with Iran to add up to the two countries' strong bilateral cooperation in trade, energy and economic sectors.
Visiting Iran's Air Force Commander, Brigadier General Hassan Shahsafi, and his Chinese Counterpart General Ma Xiaotian hoped that cooperation between the two air forces "will go up another level" following their high-level military contacts.
Military ties between the two countries have been developing since two Chinese warships docked at Iran's Bandar Abbas port, for the first time, to participate in a joint naval exercise in the Persian Gulf in 2014.
General Xiaotian said increased cooperation will help train their forces for combat readiness.
None of the two countries is currently involved in a war but they are both engaged in tense regional disputes with their respective neighbors as well as U.S. actions in their regions.
Iran and China attended the Syria talks held during the weekend in Vienna but Tehran has warned that it would withdraw "if the talks are not fruitful" especially if Saudi Arabia continues to play "a negative and unconstructive role" in the next rounds said deputy foreign minister, Hossein Amir Abdollahian. The meeting was attended by nearly 20 countries, including Russia and the United States.
President Rouhani also took a swipe at Riyadh at a meeting with Iranian ambassadors stating that if it nears its "outlook" in the region to the "realities" and "renounces" its interference, "many problems including those concerning (our) relations can be solved in the new conditions", reported Press TV.
The growing ties between Tehran and Beijing are being closely monitored by neighboring states that are close to Washington.