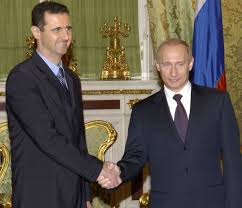 Syria's Bashar al-Assad met Tuesday night in Moscow with his Russian counterpart Vladimir Putin during his first official trip outside his country since the beginning the civil war in 2011.
Assad thanked Putin for his "help" in the Syrian conflict and for Russia's ongoing military campaign that has boosted the advances of Syrian troops
Kremlin spokesman Dmitry Peskov said Assad briefed in detail President Putin "about the current state of affairs in Syria and the long-range plan."
He said discussions focused on the fight against extremist groups, the carrying on of the Russian operation, and the support for the Syrian army's offensive.
Assad expressed "enormous gratitude to the whole leadership of the Russian Federation and to the Russian people for the help they are giving Syria" according to the transcript of the meeting published on the Kremlin's website.
He also thanked them for supporting Syria's unity and independence because Russia's "political steps… have not allowed events in Syria to develop following a tragic scenario," in reference to the vetoing of several U.N Security Council draft resolutions.
Putin said they are willing to go beyond the military intervention and ready to contribute to the "political process" but "in close contact with other world powers and with countries of the region which are interested in a peaceful resolution of the conflict."
The Russian president stressed that a political settlement was possible but with the participation of all political, ethnic and religious forces in the country. He added that the last word should be that of the Syrian people.
Assad said during the meeting that "terrorism which is spreading in the region would have swallowed up a much greater area and spread over an even greater area" if Russia had not intervened in Syria.
Russia had stated at the launch of its operations in Syria that these operations are part of its own national interest requiring to fight terrorism and extremism.
The Kremlin announced the visit only on Wednesday morning, after the Syrian president returned home out of security concerns.
President Putin informed his Turkish counterpart Recep Tayyip Erdogan, in a phone call, about Assad's visit and the outcome of the talks he had with the Syrian President, the Kremlin spokesman said.
Putin and Erdogan also discussed the situation in Syria, the spokesman said.