KSA: Hajj responsibility is Saudi's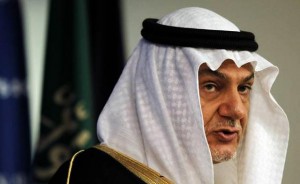 A senior member of the Saudi Royal family, Prince Turki al-Faisal, hinted that Riyadh has no plans to share hajj responsibility despite the criticisms that followed the fatal incident in Mina.
He said organizing such a religious gathering is part of the kingdom's duties considering that monarchs hold the title of "Custodian of the Two Holy Mosques" in reference to the Grand Mosque in Mecca and the prophet's mosque in Medina. Taking care of these holy places and the hajj is a matter of sovereignty, he said.
More than 1,400 people died in the Mina stampede and the death toll is not final.
Iran registered the highest casualties and has been very vocal against Saudi Arabia alleging incompetency and mismanagement. It called for an independent body to oversee the hajj.
Ali Qazi, representative of Iran's supreme leader for hajj and pilgrimage affairs, accused hajj officials of using improper infrastructure while Deputy foreign minister for legal and international affairs Abbas Araqchi stated that the legal teams of several government bodies are investigating the Mina stampede.
Iran's state prosecutor has vowed to "pursue the trial of Al Saud" through international courts for the deaths in this year's hajj.
Prince Turki al-Faisal said Tehran is making a "political capital" out of "human suffering" as part of its usual "political shenanigans."
Short URL: https://me-confidential.com/?p=10851
Posted by
Jaber Ali
on Oct 12 2015. Filed under
Headlines
,
World News
. You can follow any responses to this entry through the
RSS 2.0
. Both comments and pings are currently closed.