Kuwait: 29 charged after suicide bomb attack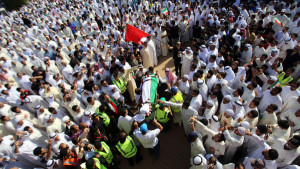 29 suspects many of whom are Kuwaitis will be tried for playing a role in last month's suicide bomb attack on a Shiite mosque that killed 27 people and injured more than 200. Charges against them vary from the illegal possession of explosives, incitement to violence to adhering to an extremist group.
The Islamic State claimed responsibility for the attack and identified the suicide bomber asAbu Suleiman al-Muwahed from Saudi Arabia although a statement from Kuwait's interior ministry named him as Fahd Suliman Abdul-Muhsen al-Qabaa.
According to Kuwait's official news agency, those facing trial include 7 Kuwaitis, 13 illegal residents, 5 Saudis, 3 Pakistanis and a fugitive whose nationality is not yet known. Kuwaiti authorities often refer to the country's bidoin community that is made up largely of desert nomads as illegal residents.
At the beginning of the month, Riyadh announced that three Saudi brothers linked to the attack were also under custody in Saudi Arabia.
The attack on the Imam Sadiq Mosque was described by Prime Minister Sheikh Jaber as an attack on the state's internal front and national unity as he vowed that Kuwait is stronger than terror acts. The Islamic State referred to the attack as a strike on the "temple of the rejectionists," a term it uses to refer to Shiite Muslims.
Kuwait announced that it will implement strict security measures to curb such attacks andMember of Parliament Khalil Ibrahim Al Saleh, who was in the mosque when the suicide bomber struck said that "the Shiite community has a wide base in Kuwait, in mosques, houses of worships, and they are in all parts of Kuwait, therefore, we need to reassess our security policy."
Short URL: https://me-confidential.com/?p=10119
Posted by
Peter Mulvany
on Jul 16 2015. Filed under
Gulf News
,
Headlines
. You can follow any responses to this entry through the
RSS 2.0
. Both comments and pings are currently closed.