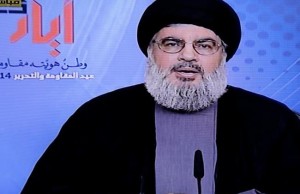 Hezbollah's Secretary General Hassan Nasrallah renewed his organization's alliance with the Free Patriotic Movement (FPM) led by Michel Aoun and urged the FPM and the al-Mustaqbal movement to find a solution to their differences in a "serious dialogue."
Addressing the political situation in Lebanon and the position of his political and paramilitary organization in a televised speech, part of activities commemorating Al Quds Day, Nasrallah said "FPM is a key party in the equation" to solve the cabinet dispute and "weeks ago, it was obvious that the country was heading towards a clash over the issue."
He stressed that despite "the difficulty surrounding the election of a president due to the current circumstances,"  "neither Aoun nor his allies want to topple the government, because that would plunge the entire country into vacuum."
Lebanon has gone for more than 400 days without a president as political parties fail to agree on a candidate. Nasrullah said parties "must agree on a mechanism for the work of the cabinet" to be done until a president is elected. "Lebanon needs its civil peace, institutions and coexistence, and it has no room for elimination, exclusion or monopolization, and partnership is our destiny," he stated.
Nasrullah also refuted claims that Hezbollah was no longer supporting the FPM. They thought that"Hezbollah is preoccupied in Syria and that Aoun was alone," he said before clarifying that Hezbollah"won't abandon" its allies. He added that "some parties believed" that we "do not share the same stance" with FPM and the "legitimate demands" raised by Aoun.
He called for a "bilateral dialogue" between FPM and al-Mustaqbal to be held first and other parties could join later to end the presidential crisis and the appointment of high-ranking security and military officials standoff.