Libya: GNC rejects U.N draft, wants judiciary respect added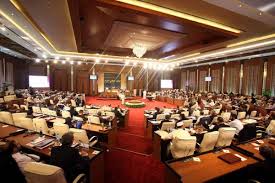 The U.N-led talks for a transitional government in Libya have been dealt another blow after the General National Congress (GNC), the parliament in Tripoli, voted against the proposed draft and called for a new round of negotiations.  Spokesman Omar Hamidan of the GNC said they want to add some "modifications" to the draft; one of which is "respecting the judiciary."
U.N Special Envoy to the country Bernardino Leon has been negotiating for an agreement between the two rival governments but the latest argument from the GNC according to Hamidan is that the proposed draft "is not the satisfactory state (necessary) for us to initial it."
Prime Minister Thinni of the Tobruk-based government extended an olive branch to his opponents in Tripoli for a power-sharing deal for the sake of the "wise and kind people of Libya" but it seems as if the GNC's call for the respect of the judiciary is a reply making reference to the country's Supreme Court ruling in November 2014 when it ruled that the Torbuk-based parliament is unconstitutional. The ruling was rejected by Tobruk as a decision taken under the threat of arms since the court is located in Tripoli.
GNC said they are "ready to head (to the table of) dialogue immediately, once a date is decided" and urged Leon to "reopen the debate." Fajr Libya, a coalition of Islamist militias that are part of the Tripoli government, labeled the proposed draft as a betrayal of Libya's liberation and sovereignty.
Meanwhile, a spokesperson of the National Oil Corporation has announced the lifting of force majeure at the major Ras Lanuf oil terminal. Exportation will depend on the amount of available oil and the working fields linked to the port.
Short URL: https://me-confidential.com/?p=10048
Posted by
Jaber Ali
on Jul 9 2015. Filed under
Headlines
,
World News
. You can follow any responses to this entry through the
RSS 2.0
. Both comments and pings are currently closed.