Egypt: Antiterrorism bill against wrong information underway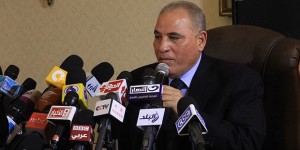 A draft antiterrorism bill that has been approved by the cabinet has raised eyebrows in Egypt's media sector with critics describing it as a censorship move, but Justice Minister Ahmed Al Zind said the draft is being blown out of proportion.
Article 33 of the draft law, published in several Egyptian newspapers, stipulates a minimum two-year sentence for "reporting false information on terrorist attacks that contradict official statements."
The draft seems to be motivated by the violent and fatal clashes between militant groups in the Sinai Peninsula and security forces that started last Wednesday.
Zind lamented that on "the day of the attack in Sinai some sites published 17, then 25, then 40, then 100 dead" which, he said, affected the country's "morale."
The draft provides for at least two years in prison for those who contradict official figures, such as death tolls, when reporting on militant attacks. Zind stressed that "if the army says 10 died, don't report 20" while a military spokesman lambasted foreign media agencies for increasing the casualties of the military.
Mohamed Zarea, head of Cairo Institute for Human Rights Studies, said "this is worse than all the drafts we have seen before" and terrorism is vaguely defined and could apply to extremists, journalists or civil rights groups. He added some of the articles seem to violate the Constitution. Egypt's journalist syndicate also condemned the "new restrictions" implied in the draft.
Egypt under President Sisi has been struggling to contain militant groups and Sisi said some "media and methods of communication" are similar to "fourth generation of warfare, and even fifth."
Zind said the antiterrorism bill will "impose some standards" since "the government has the duty to defend citizens from wrong information."

Short URL: https://me-confidential.com/?p=10008
Posted by
meconfident
on Jul 6 2015. Filed under
Headlines
,
World News
. You can follow any responses to this entry through the
RSS 2.0
. Both comments and pings are currently closed.