U.N. Secretary-General Ban Ki-moon has cautioned leaders in South Sudan to bring an end to the fighting that has already claimed tens of thousands of lives and displaced almost 2 million people in a year.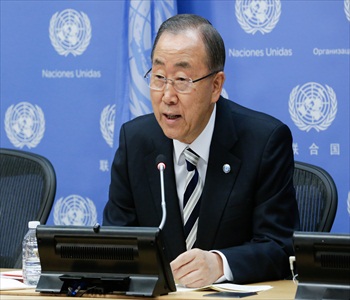 South Sudan is Africa's youngest nation after seceding from Sudan but celebrations were short lived as fighting broke out in the capital Juba between supporters of President Salva Kirr and his Vice President Riek Machar.
Secretary General Moon said that fighting is being geared by "personal ambitions" of the South Sudanese leaders while the U.N Security Council described it is a "man-made political, security and humanitarian catastrophe." Observers believe that ethnicity has contributed immensely to the fight and its spread over the country. President Kirr is a Dinka and Vice President Machar is a Nuer. The Security Council is threatening to impose sanctions if the the different parties fail to make efforts towards peace.
U.N. High Commissioner for Human Rights, Zeid Ra'ad Al Hussein, said the population is living in a tinderbox with high emotions as they continue to be surrounded by insecurity and children often forcefully recruited to fight. He added that there have been targeted killings and looting. The livelihood of its citizens is also threatened by famine.
The two sides have signed several peace deals brokered by neighboring governments, but none has succeeded in stopping the fighting in the oil-rich country. The government and the rebels often accuse each other of violating the agreements. Secretary General Moon said the leaders should form an inclusive power sharing government that would address the root causes of the conflict and ensure accountability for any crimes committed on the battlefield.