Turkey's Economy Minister Nihat Zeybekci and its European Union Minister and Chief Negotiator Volkan Bozkir are on a two-day working visit to Germany to foster their bilateral ties and discuss matters regarding the European Union (EU). Zeybekci met with his German counterpart and raised concerns about the ongoing EU-U.S. free trade talks that Turkey has been sidelined from because it is not a member of the EU. Minister Volkan Bozkir is hoping to count on Germany's influence in the EU to fasten their membership process which has been dragging on for a couple of years.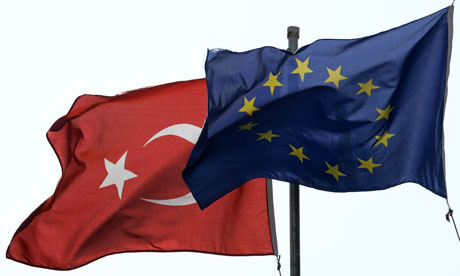 Minister Zeybekci met with Sigmar Gabriel, German Minister for Economic Affairs and Energy and Vice Chancellor to discuss the reviewing of the Customs Union which allows Turkey and EU member states to exchange goods without any customs restrictions.
Sigmar Gabriel said Ankara and Berlin have "a very dynamic economic partnership" that has been established before citing that "the Joint Economic and Trade Commission and the German-Turkish Energy Forum are important instruments to further develop our cooperation." The trade volume between the two countries reached €33 billion last year.
Although Gabriel stated that the Customs Union is also important to their bilateral relations, Turkey is willing to break away from it if its wishes do not come true.
Last month, the Turk minister warned that "it would be impossible for Turkey to maintain its customs union agreement with the EU" if it is not included in the ongoing free trade agreement between the EU and the US or conclude a simultaneous free-trade agreement with the U.S accordingly.
Meanwhile Minister Volkan Bozkir is trying to lobby support for their membership to the EU by meeting prominent German politicians such as former German Chancellor Gerhard Schroeder.