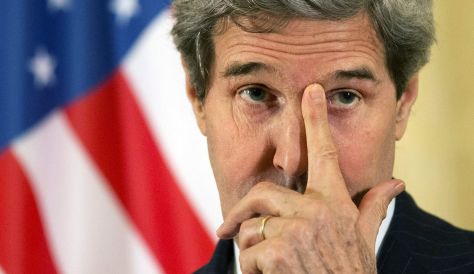 US Secretary of State John Kerry could be throwing in towel as his efforts to end the long standing conflict between Israel and Palestine seem limited. Kerry has crisscrossed between the two countries to bring the two authorities together but they are reluctant to make decisions to end the conflict. A senior government official said Kerry has "gone as far as he can as [a] mediator." Israel and Palestine both accuse each other of not wanting peace between them.
An American official said that Kerry's decision to cancel his trips to Jerusalem and Ramallah represented a growing lack of patience within the White House, which "believes that his mediating efforts have reached their limit and that the two sides need to work their way out of the current impasse." Israel and Palestine both support different conditions necessary to end the conflict.
The deadline to conclude a deal in their ongoing secret negotiations will surely not attain its objectives because it has been stiff in recent times. Israel stated that they are reluctant to proceed unless the Palestinians commit to extending talks past the end of April deadline agreed after a push by the US Secretary of State John Kerry. The recently concluded summit of the Arab League renewed its support to the Palestine and blamed Israel for the continuous conflict between them.
Palestinian Authority President Mahmoud Abbas has said that he would seek further United Nations recognition in an unexpected move that could derail US-brokered peace talks with Israel. He signed applications by the "State of Palestine" to join several UN agencies and ratify international treaties on Tuesday. The decision could further increase the differences with Israel after it delayed the release of the 4th batch of prisoners as agreed.