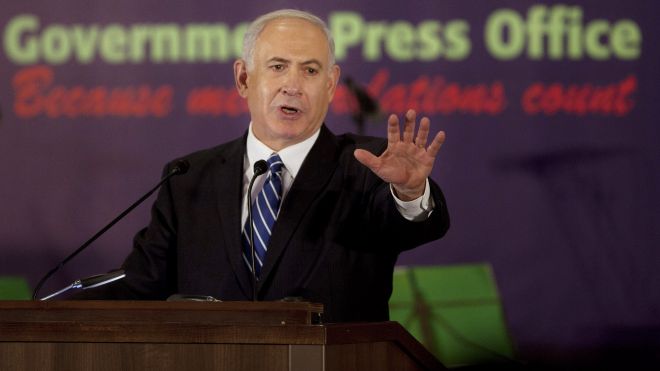 Prime Minister Benjamin Netanyahu used the weekly cabinet meeting of the government to lash out on the United Nations Human Rights Council resolutions against Israel. He accused them of hypocritical gestures and claimed that they turned a blind eye on abuses taking place in the Middle East. The United States voted against the resolution and in some cases, it was alone. Palestine considered the resolutions to be the "condemnation of systematic human rights."
The 47-member of UN Human Rights Council voted the resolutions last week Friday. Israel's representative was not present during the session because of a global strike by the foreign ministry staff.  The council was critical to Israeli activities in the Palestinian Territories and the occupation of the Golan Heights. Prime Minister Netanyahu told his cabinet ministers that condemning Israel five times is a mockery of human rights during the abuses going on in regional countries. He said that such condemnations happened "at a time when the slaughter in Syria is continuing, innocent people are being hung in the Middle East and human rights are being eroded." Some countries such as Iran still practice hanging as a legitimate punishment while Syria has been locked in a war.
Netanyahu seems to be in disbelief with the Council's decision as he labeled it "absurd." On the other hand, Palestinian Foreign Minister Riyad Al Malki said the council reaffirmed "the primacy of human rights of the Palestinian people and the obligations of all States to promote and protect human rights." The US was the only country to vote against the 4 motions on the Palestinians and was joined by 13 abstentions with regards to the occupation of the Golan Heights.
Al Malki said the vote confirms Israel's "systematic human rights violations" against Palestinians.