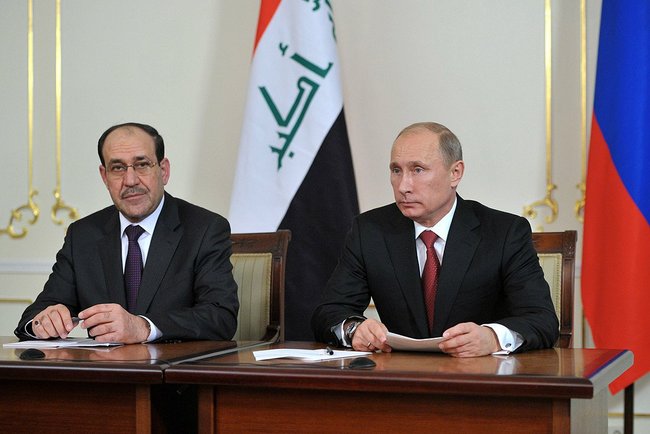 On his visit to Iraq, Russian Foreign Minister Sergei Lavrov on Thursday held talks focused on weapons deliveries and Syria with senior Iraqi officials including Prime Minister Nuri al-Maliki. This was held after the meeting between Russian President Vladimir Putin and Egyptian army chief Abdel Fattah al-Sisi to ensure the strengthening of Russian ties with Middle-Eastern and North African countries. Russia stands to gain from both Iraq and Egypt by strengthening diplomatic ties; the situation could serve as leverage for both Arab countries in their dealings with Washington.
As disclosed by the Iraqi foreign minister in a joint news conference with Lavrov, Russia intends "to accelerate the urgent process of delivering weapons to help Iraqi forces in their confrontation with uncontrolled terrorism, which comes from the Syrian border to our provinces in the western area." This supply is expected to help control terrorism arising from the Syrian border where rebels are battling forces loyal to President Bashar al-Assad since the outbreak of the civil war in 2011. This surge in violence is a setback in a country emerging from sectarian killings dating as far back as 2008.
In the previous year, there has been delay in delivery of US weapons to Iraq due to fear of abuse. The same situation is experienced in Egypt after the country's democratically elected President was overthrown by the Military. Lavrov portrayed American policies on Syria as being a means of facilitating extremists through the financing of terrorism activities and supplying terrorist organizations and groups with weapons. Washington has always accused Russia of not doing enough to make sure the Assad regime is fully committed to the talks to the end the war which has claimed tens of thousands of lives and left millions displaced.