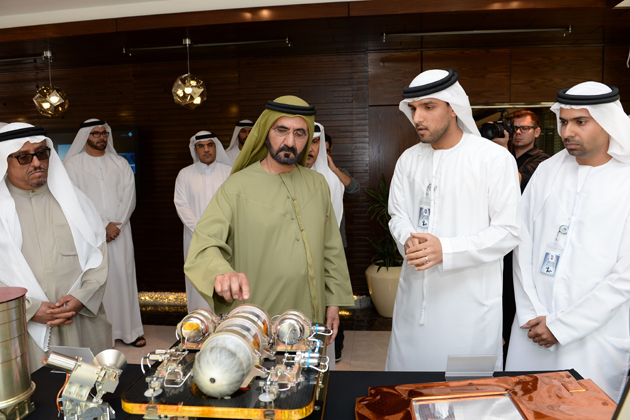 Work has been progressing at the Emirates Institution for Advanced Science and Technology (EIAST) where a team of 45 engineers and experts are establishing advanced facilities and high-tech laboratories for building the first satellite entirely built within the borders of the United Arab Emirates. The UAE is planning to become the first Arab country to make its own satellite when it launches it in 2017. Cooperation with the Arab countries in the domain is also welcomed.
The satellite has been baptized as "KhalifaSat". Dubai's ruler, Sheikh Mohammed bin Rashid Al Maktoum, said the ambitious project should serve as a source of motivation to other Arab countries. According to him, it is "a message to all Arabs that Arab ushering into the space era is neither out of reach nor impossible". Sheikh Mohamed also serves as the vice president and prime minister of the UAE.
The United Arab Emirates is an important player in the Gulf. Sheikh Mohammed wants their influence to be globalized. He thinks that space industry and competition in space sciences plays a major role in this aspect. He envisaged that they "will be a leader in this industryas long as we have the confidence and courage to enter into competition with major countries in this field". He added that their confidence in the team is "boundless".
The executive phases of Khalifa have been launched but its mission has not yet been revealed. It will be built solely by the "sons and daughters of the UAE" and will be personally followed up the Sheikh Mohammed. He recalled that "success come from Allah".
The world's first satellite, Sputnik, was put into space by the Russians in 1962. Only a few countries have been able to realize the feat.