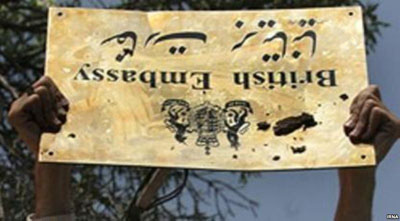 Iran and Britain have announced that they will be working towards reopening their respective embassies after an incident in 2011 led to their closure. Both countries will be appointing non-resident charges d'affaires in their respective capitals as an initial step towards it. Britain credited President Rouhani's approach for the development.
In November 2011, Britain decided to withdraw its embassy staff from Tehran before eventually closing it after attacks and trespassing on two of its diplomatic compounds. Iranian diplomats were asked to leave Britain. The attacks were provoked by Britain's sanctions on Iran's Central Bank which led to the downgrading of diplomatic ties by the Iranian parliament. Britain said they were coordinated attacks. They lasted for several hours. Documents and materials were destroyed but there were no hostages.
Foreign Secretary William Hague said the two states are willing to forge ahead "in a much more positive way than in the recent past." He told the House of Commons that since the arrival of President Rouhani, there has been "no doubt that the tone of the meetings with them is different" especially when their counterparts met on the sidelines of the UN General Assembly.
Iran's Foreign Ministry Spokeswoman Marzieh Afkham said the revival of their bilateral relations was due to both sides agreeing to continue talks between their ministries. She hinted that the Iranian parliament will need to review their ties with Britain before embassies can be reopened because they remain downgraded.
Foreign Secretary Hague said that despite the manifestation of goodwill by the Iranian government, Britain "must test the Iranian government's sincerity to the full." He added that "substantial changes" to British or Western policies could affect their relations.
Delegates will be meeting in Geneva next week to further discuss details.