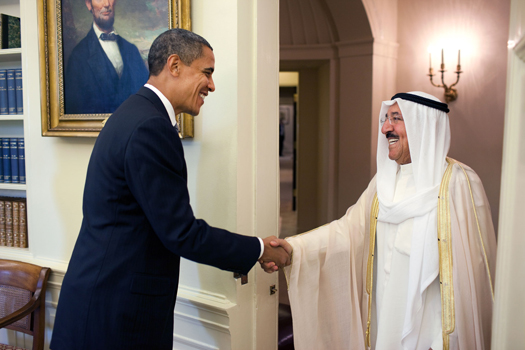 Kuwait's Amir is on an official visit to Washington to tighten bilateral relations and to discuss regional security issues concerning both countries with President Obama. Kuwait has been going through a fragile political and economic experience in the past couple of years. The reforms undertaken in these regards by the country were saluted by the U.S.
The visit of His Highness the Amir Sheikh Sabah Al-Ahmad Al-Jaber Al-Sabah came at moment when tensions over the use of chemicals by the pro-government forces are on the verge of provoking a foreign military action in Syria. Damascus has refuted the allegations. Kuwait is an important ally of the White House in the Middle East. It hosted the U.S troops during their invasion campaign in Iraq and it is considered as an official major ally outside of NATO.
The United States is a major trade partner of Kuwait. According to the federal records of the U.S, it occupies the position of the 5th largest market for the U.S in the region for goods and services with importations reaching $2,6billion in 2012. The visit will be an opportunity to increase their economic and commercial transactions since there is still room for development.
Kuwait exports mostly oil and petrochemical products. Its companies also have active partnerships with U.S companies for the upkeep and upgrade of refineries and industries. In 2011, Kuwait exported $7,8billion worth of crude oil to the U.S.
Since 2004, Kuwait City and Washington have been bonded by the Trade and Investment Framework Agreement (TIFA) to ease economic and commercial relations between them. The agreement is designed to bridge the bureaucracy related to trade and investment of their companies.
The Amir's visit is his third official visit to the U.S since he became a ruler.