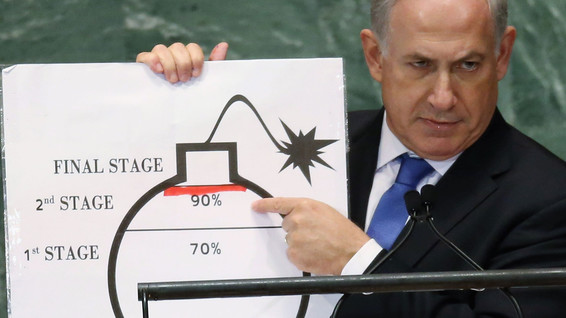 Prime Minister Benjamin Netanyahu has issued another warning on Iran's nuclear ambition, without ruling out a solo attack because they have a tighter flexibility than their ally, the U.S. He said that Iran has speeded up the process, but it will under no condition acquire a nuclear bomb.
According to him, Tehran is getting "closer and closer" to it and so is the need for them to act, because they are more "vulnerable" than their ally. Netanyahu is convinced that Iran is on the verge of using faster centrifuges that will allow it to operate at a faster rate. He estimated that these centrifuges will lead to the crossing of the red line "within a few weeks."
A war of words has characterized Tel Aviv and Tehran's relations and the arrival of the new president, Hassan Rohani, won't possibly change it. Netanyahu described Rohani, a former nuclear negotiator, as a "a wolf in sheep's clothing" who will want to "smile and build a bomb."
Netanyahu is soliciting President Obama's support to pressurize Rohani to abort the program, although he remains skeptical about its success. Netanyahu opines that "only thing" that can lead to the "attention" of Iran is a military action. Tehran has always maintained that its nuclear program is for peaceful purposes and has vowed that any military operation to halt it will be duly repelled.
Negotiations over the nuclear program have been dragging for years between the permanent members of the United Nation's Security Council plus Germany and Iran but not much progress has been made. Another meeting is scheduled for Tuesday and officials are claiming that Iran could be suggesting "a partial lifting of sanctions" in exchange for certain "a temporary cessation" or reducing its enriched uranium level.