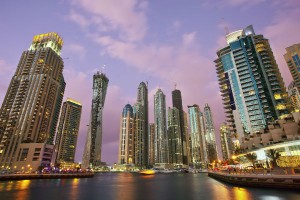 A report published by Economist Intelligence Unit has stated that Dubai is expected to become MENA's most competitive city by 2025 and 23rd globally. The Hot Spots 2025: Benchmarking the Future Competitiveness of Cities report, commissioned by Citi, claims that cities in the Middle East "will be bolstered by their growing economic strength."
Towns in Europe and the United states dominate the top brass of the ranking but Dubai is expected to bypass certain cities such as Brussels, Oslo, Houston, Vancouver, Geneva and Moscow. Middle Eastern cities following Dubai on the ranking are Doha (24th), Abu Dhabi (39th), Muscat (64th), Kuwait City (63rd) and Riyadh (87th).
Atiq Ur-Rehman, Citi's Chief Executive Officer for the Middle East Division, said planning for a global business should begin with a city in order to compete on a global stage. The CEO of Citi, Michael Corbat said towns are "centers of innovation and engines of regional economic growth." He went on to say that their main challenge is urbanization. A United Nations report underlined that the urban population in Arab countries quadrupled from 1970 to 2010 and it is expected to at least double from 2010 to 2050.
Urbanization rates are above 90% in countries like Bahrain, Kuwait, Lebanon and Qatar. Almost 65% of MENA's population will live in urban areas by 2025 and Abu Dhabi and Cairo could emerge as "key economic powerhouses of the future" by 2020 with the potential of contributing 48% and 77% to their gross domestic product respectively.
Other research firms such as Frost and Sullivan claim that by 2025, the economies in MENA will be powered by urbanization, geo-socialization, connectivity and convergence, infrastructure and power.