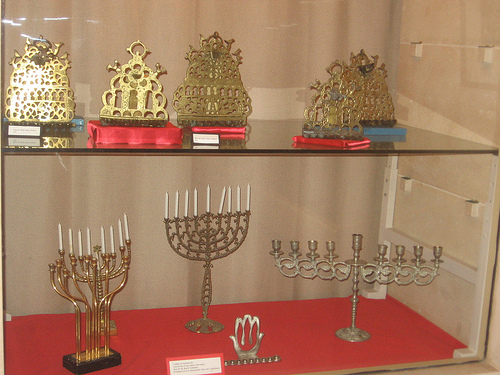 After months of renovation work, the Casablanca-based Museum of Moroccan Judaism, the only institution of its kind in the Arab world, was reopened to the public earlier this month.
The reopening ceremony was attended by Moroccan government officials and the museum President Jaques Toledano.
The museum displays photos of synagogues from across the kingdom, Torah scrolls and Chanukah lamps, gold embroidered caftans, jewels, ancient rugs and objects of Jewish-Moroccan cultural heritage.
Founded over 15 years ago by the Jewish community of Casablanca, the museum was later managed by the Foundation of Moroccan Judaism that was chaired by Simon Levy who passed away in 2011.
Morocco has launched a large scale project to refurbish synagogues and other Jewish monuments that bear, as put by King Mohammed VI during the inauguration last February of the refurbished Slat al Fassiyine Synagogue in Fez, "eloquent testimony to the spiritual wealth and diversity of Morocco and its heritage."
In a message read out on his behalf during the inauguration ceremony of Slat al Fassiyine Synagogue, the King reiterated Morocco's commitment to religious freedom and tolerance, enshrined in the new Moroccan Constitution and emphasized the importance of the country's three-thousand-year Jewish legacy.
The King of Morocco has also helped finance the rehabilitation of a long-neglected Jewish burial plot in Praia, the capital city of Cape Verde.
The cemetery is due to be dedicated on May 2 in the presence of Cape Verde Jews' descendants from Europe, the United States and other parts of the world. André Azoulay, advisor to King Mohammed VI is also expected to attend the dedication ceremony.
Several hundred Jews from Morocco reportedly immigrated to Cape Verde in the 19th century and played a key role in the economic development of the country. Many succeeded to climb the ladder and take up governmental positions.