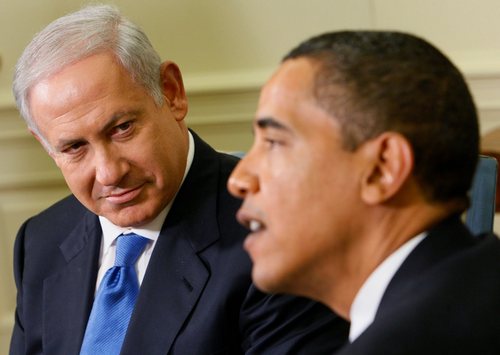 For about an hour Israeli air space was closed for the arrival of Air Force One on Wednesday due to President Barack Obama's visit on Wednesday. The long awaited three day visited thus started when he landed at Tel Aviv airport on Wednesday where he was welcomed by Israel's Prime Minister Netanyahu. Obama came in with an entourage of 600 that will be following him to all his visits from Israel all the way to Palestine where he is also supposed to meet leaders in Ramallah in this visit that was qualified as a "listening exercise" that will have very low tangible outcomes.
Actually according to officials from both sides the main reason of this visit is the amelioration of tensions between these two leaders that are just starting their second mandate.  Although there is a lack of personal warmth between the two for now they are meeting officially for the tenth time face to face and they are planning on having a five hour talk that focused on Iran, Syria and the Israeli-Palestinian conflict. In addition, the White House wishes that this visit will allow the amelioration of Obama's image in Israel where a recent poll has found a very large number of Israelis to distrust and have a "hateful" attitude towards him. That is why they have carefully sketched out a program that will allow him to get to know more the Israeli people by addressing an audience of University students after visiting the key sites in Israel.
Afterwards he is expected to travel to Ramallah by helicopter in order to avoid crossing the separation wall where he will be holding talks with President Mahmoud Abbas. However many Palestinians remain hostile to Obama who they think has failed his promises by not stopping Israeli settlers from colonizing the West Bank.