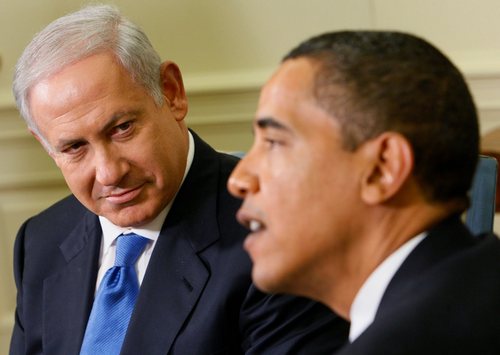 While Israel's new government which is mainly constituted of pro-settlers is being sworn in to function it appears more and more that the tension between them and the US president will not vanish easily.
For many months Obama's administration has been criticizing Netanyahu's decision to go on with Jewish settlements in the West Bank region that Israel is occupying. In addition they also have not been able to come to a decision on how to stop Iran from creating nuclear weapon.
Actually, Netanyahu was showing open support to Mitt Romney while presidential elections were being held in November. He wishes that Obama concentrates more on solving the war in Syria and putting an end to Iran's nuclear ambitions instead of trying to interfere with Israeli-Palestinian internal conflict.
In the mean while Obama has been trying to persuade Israel that leaving the situation as it is in the region might lead to a "major conflagration" according to analysts. However now that both leaders are freshly coming back from re-election campaigns it appears that they wish  to repair the tensions that have been created between their countries during Obama's visit on Wednesday.
However a poll that was made just a week ago showed that most Israelis dislike the US's President believing that he is not fully interested in protecting Israeli interests.
According to director of the Begin-Sadat Centre for Strategic Studies at Israel's Bar-Ilan University, most of them think that Obama is "misguided on the Palestinian issue" so maybe he might not find a public that is quite open to his ideas in Israel.
Nevertheless he has planned to make his main speech to Israeli students at a Jerusalem convention center that is a change since his predecessors mainly spoke in parliament.