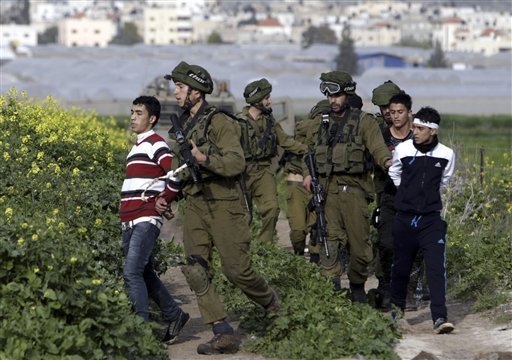 An international investigation was called upon by the Palestinian government after the autopsy of a prisoner in Israel showed that he was beaten to death. According to the Palestinian doctor that was present during the autopsy Arafat Jaradat who was a 30 year old Palestinian under Israel's custody had injuries such as bruising, signs of lashing as well as broken ribs.
These damages done to his body were responsible for his death and not the heart attack that the Israeli authorities are claiming to have killed him. Jaradat who is the father of two children was arrested a week ago in his home town for allegedly being involved in a stone-throwing incident a few months ago. The internal Shin Bet security agency that was responsible for his interrogation just said that he was closely monitored by a doctor during the process and that he could not be saved once he got ill although the proper health professionals were alerted.
The minister of detainees Issa Qaraqaa held a news conference in Ramallah where he told the international press about the report and made a direct accusation at Israel of having killed this father. Following which more than 3000 Palestinian prisoners decided to have a hunger strike to protest against this unjust death. In addition, many clashes between Palestinians and Jewish settlers are occurring all over the West Bank and East Jerusalem.
Asked to comment about the accusations, Prime Minister Benjamin Netanyahu's office preferred to wait until the material is officially released "from the autopsy to the public." The fact that Israel is not giving proper answer is believe to be increasing Palestinian frustration according to a parliamentary speaker on Israel Radio who foresees a new "intifada" if peace negotiations are not resumed quickly.