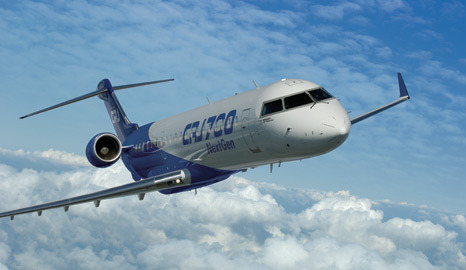 Canadian aircraft manufacturer Bombardier has started production of its components in Morocco at a temporary facility without waiting for the completion of construction works of its principal plant.
Hence, the first Bombardier components made in Morocco started coming out from the transitional manufacturing site operating with a small local group of aircraft assemblers trained at the nearby Institut des Métiers de l'Aéronautique (IMA).
"This is a very exciting milestone for us as we start to see our operation in Morocco take form," said Hugo Brouillard, General Manager, Bombardier Aerospace, Morocco. "With 18 new local employees fully engaged and trained in the Bombardier manufacturing process and philosophy, this is the first step towards a long future of quality component manufacturing at another world-class Bombardier facility.", he added.
In 2011, Bombardier announced its intention to build a manufacturing facility in Morocco. The Canadian company will inject about $200 million over eight years in this project expected to employ 850 workers by the end of 2020.
In order to maintain the timeline for production Bombardier has set up operations in a temporary site located near Mohammed V International Airport in Nouaceur (about 30 km from Casablanca city, Morocco's economic capital), near its future permanent facility.
Bombardier transitional manufacturing facility in Morocco is currently producing simple structures including flight controls for the CRJ Series aircraft. By year-end, the facility is expected to employ approximately 100 fully trained aircraft assemblers.
According to some aviation analysts, Bombardier seeks to cut production costs through setting up a facility in Morocco wherein the Canadian company will pay no taxes for five years, 8.75% for another 20 years and 17.5% thereafter. The North African nation offers investors stimulus package including ready-to-use facilities and skilled workers paid lower than average wages in Tunisia and Turkey, 10 times lower than Spain and a quarter of what's earned in South Africa.
Bombardier has recently started beefing up its presence in emerging markets such as India and China, as Europe and the United States are hit by economic turbulence.