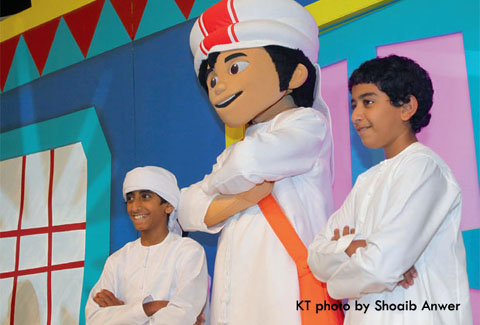 UAE has been trying for the past few years to incorporate the Arabic identity into its new generation in order to help them develop their ties to their country. Knowing that besides education given in school the lessons that are learned from the media are essential a new Emirati cartoon is to be released on TV in January.
This show that is going to be launched in the beginning of the New Year is expected to emphasize the big part that Arabic language and culture should have on the youth.  The cartoon entitled "Mansour" talks about the challenges that a young boy faces while trying to accomplish his big dreams. The Mubadal Development Company that is behind this creation has decided to collaborated with two UAE television networks which are Abu Dhabi Media and Dubai Media Incorporated.
The creator Rashed Al Harmoodi believes that working with national networks that are very popular in the country will assure that Mansour will have great success and will reach the targeted age group. It is known that Abu Dhabi Emirates channel was created with the main purpose of educating the audience about the UAE, its culture, and identity but both organizations will have the rights to broadcast the first season of Mansour.
On a statement that was made by the development company the episodes include "important issues facing the young generation into exciting and compelling storylines designed to captivate their imagination".  In addition it allowed all the Emiratis that were involved in the project to showcase their artistic innovation and reaffirm their cultural identity. This first Emirati production that uses technology that is very advanced has succeeded into obtaining high quality animation techniques. Finally the creator said that transmitting "important values and principals is something that will happen naturally throughout episodes.