Yemen: the country's healthcare situation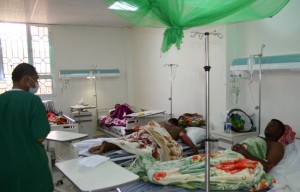 In Yemen, many of the citizens worry about the critical situation that the country's healthcare service is in. It has been known that people that have a small income find it more and more difficult to have access to adequate care. To begin with, many say that medicines are very difficult to obtain especially the ones that are prescribed for those suffering with heart and kidney-related disorders. When people manage to access hospitals the way they are treated is far from satisfactory.
According to them they are not only mistreated but they also believe that doctors do not give them enough care. The fact that the clinics and the hospitals are so overcrowded adds the pressure to the doctors that begin having incorrect conducts and sometimes they demand tests that prolong the patient's pain. Dr. Ama'al Al-Awadi, a dentist at the Al-Mithali clinic in Sana'a believes that a general lack of financial support from the ministry might be the reason why the situation is so difficult. She pointed out some consequences of the underfunding such as the fact that seating in the waiting room is inadequate makes those waiting suffer. In addition equipments used are often faulty or completely broken.  She also said that the bad sterilization of materials and medical appliances "puts patients' health at risk and increases the likelihood of diseases being spread." That is a huge inconvenience, mostly for those that come from isolated areas with no appropriate health care. Nashwan Al-Samad, a doctor in Al-Thwara hospital adds that because of all these lacks germs might spread more easily and  garbage men taking care of the hospital's trash end up catching many diseases because of the exposure and the fact that they don't have appropriate clothing and tools.
Short URL: https://me-confidential.com/?p=6330
Posted by
Peter Mulvany
on Dec 20 2012. Filed under
Headlines
,
World News
. You can follow any responses to this entry through the
RSS 2.0
. Both comments and pings are currently closed.