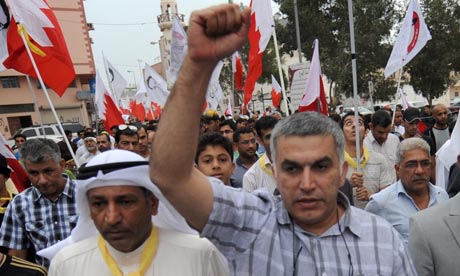 Bahrain has lost its stability since a pro-democracy demonstration led by Shi'ite Muslim majority was held a year ago.  During this event several influent activists have been imprisoned for participating in the anti-government protests. The founder of the Bahrain Centre for Human Rights, Nabeel Rajab is the one that marked most protesters who consider him as a hero. He was arrested for taking part in unlicensed protests and had been sentenced to three years in prison for being the leader of the protest against the actual government which is majority Sunni.
This judgment was first given by a lower court in August and the decision was considered to be harsh by many right groups. With his lawyer Mohammed al-Jishi he made an appeal finding the sentence unfair. However the Bahrain government's Information Affairs Authority and Public prosecutors said the charges were related to the violence that was initiated by Rajab during the protest. That is why his judgment was reduced but he still has a year jail sentence that he has to serve.  The hearing that was held on Tuesday was closely monitored by rights groups and foreign diplomats who found the judgment to be "harsh". Despite this kind of strict measures that are being held by the ruling family, unrest has resumed in the country. According to Interior Minister Sheikh Rashed bin Abdullah al-Khalifa, the kingdom decided to ban since November all gatherings until public safety and stability are restored.
However the opposition still plans to pursue the fight since they believe that enough progress have not been made by the government. In addition, most of the Shi'ites in the country still voice their complaints on how they are marginalized in the political and economical sector in the country.