Qatar: new trooper for climate change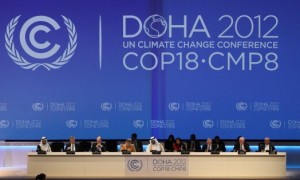 Doha has been hosting climate talks for the past few days. The thousands of negotiators present at the event noticed that this gas-rich emirate which is known for its giant projects is the place where excess and waste have made the country one of the most  ecologically irresponsibility countries in the world. However this situation of unsustainable global development that has been going on for the past few years might soon be coming to an end according to a senior adviser to the Qatari government. "There is a new direction in the country. A desperate search is going on to find new ways of doing things. They need to find the answer for when the oil and gas is not there." That is why many measures are being taken in the country. To begin with a new $70m test-bed for carbon capture, as well as the construction a 200 megawatt solar power station and a $1bn photovoltaic manufacturing plant is being planned for the years to come. In addition a new waste treatment plants and a pilot project to grow food in the desert with saltwater is one of the experiments the country wants to undertake. To assure that these plans end up becoming realities the Qatar Foundation signed on Wednesday a partnership with Postdam Institute to create a new climate change research institute in Qatar. Employing around 200 researchers, this is the first step to creating a new way of life in Qatar. The government is so committed to committing to it that they entered to make even much deeper cuts in emissions than the US or some European countries. For example, Britain wishes to have 20% of its electricity with renewable by 2030 while Qatar wants to achieve this by 2020.
Short URL: https://me-confidential.com/?p=6249
Posted by
Peter Mulvany
on Dec 7 2012. Filed under
Energy
,
Headlines
. You can follow any responses to this entry through the
RSS 2.0
. Both comments and pings are currently closed.