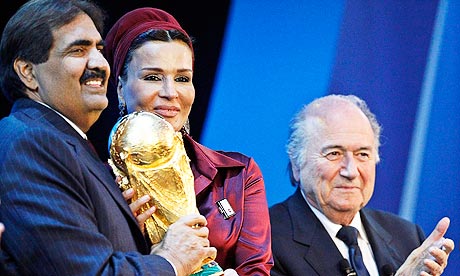 The Sunday Times, one of the United Kingdom's most influential newspaper claimed that Qatar offered $ 1 million to one of FIFA member's that took the decision to make the country host the 2022 World Cup tournament.
Many suggestions without proof to back them up were made that bribery was a weapon that was used to gain what Qatar wanted. But this newspaper claims having a new file that has been submitted to FIFA. According to it, the file is now being reviewed by Michael Garcia; chairman of FIFA's revamped Ethics Committee.
Organizers of Qatar 2022 have categorically denied having taken part in any agreement with Samson Adamu who was part of the committee that gave the tournament to the Gulf state. But Qatari officials confirm that discussions about a possible deal might have occurred. The individual was to sponsor an "African Legends" high profile gala dinner during the 2010 World cup in South Africa with the earnings of the deal. Again Qatar 2022 Bid Committee denied having any relations to this event stating they "blocked out the deal after considering FIFA's rules and regulations". Actually Qatar even implied that these allegations are just means to tarnish the countries reputation and ruin the event that is to be held in 10 years.
So they believe that their victory over the United States of America, Australia, South Korea and Japan to host the international event is legitimate. They believe that they have proved to be more adequate than the four other countries for the organization of the World cup in 2022 and that this fact should not be investigated incessantly.