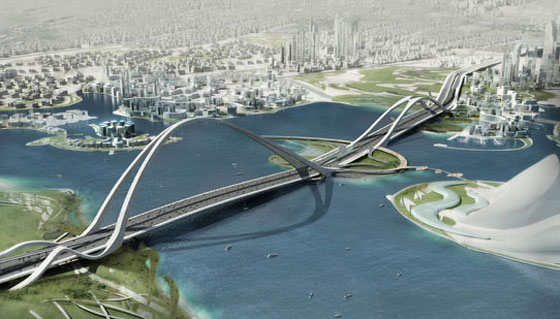 After a long period of delay of the causeway project, Sheikh Jaber al-Ahmad al-Sabah project, a deal has finally been signed to bring the dream to live.  According to a stock exchange filing, Kuwait has signed a contract with South Korea's Hyundai Engineering & Construction Company to design, build and maintain the major bridge. The South Korean company formed a consortium which it leads a local partner said. The consortium is with Combined Group Contracting Company of Kuwaiti companies.
The project has an estimated cost of $2.6 billion. Fadel Safar, the minister for Public works said the project is one of the largest development ventures and that its execution coincided with implementation of the government's development scheme.
On a statement on the website of the Kuwait bourse, the Combined Group Contracting Company stated that the contract for the main bridge of the causeway was signed with the ministry of public works and it will be owning 21.5% of the stakes while the remaining bulky part of the stakes are acquired by Hyundai.
The causeway, to be named after late Amir Sheikh Jaber Al-Ahmad Al-Sabah, will be built over Kuwait Bay and link the capital Kuwait City with the northern Subbiya area, which is to become home to the Silk City project.
The $77 billion Silk City aims to revive the ancient Silk Road trade route by becoming a major free trade zone linking central Asia with Europe. The city, on the northern tip of Kuwait on the Iraqi border, will include what could be the tallest tower in the world.
The project is set to be completed in 2030 and its closeness to the huge multi-billion-dollar container harbor being built on Bubiyan Island which is just a few kilometers away from Subbiya.