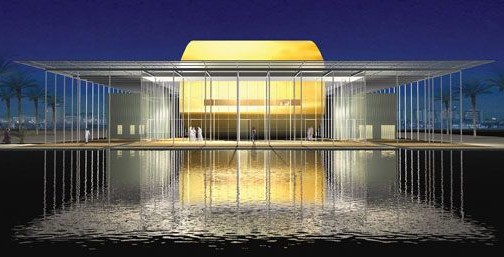 King Hamad attended the inauguration of an Arabian Nights-themed national theatre. The National amphitheatre can welcome up to 1001 guests and it coasted almost $50 million. This elegant cubic glass structure with a golden colored roof is built near the seaside.
As one of the largest theatres in the Middle East, it is expected to host spectacular performances. A busy season awaits this architectural masterpiece. Russia's Bolstoi theatre and Spanish tenor Placido Domingo are expected to grace the place with their presence. Two reasons can explain the edification of this national treasure. To begin with, a completion seems to have started amongst the Gulf region countries in the cultural domain. Since UAE has taken the lead in tourism and has become the region's trading hub, Bahrain officials are doing everything in their power to regain the edge that made the country attract many foreign investors.
The prince that accompanied King Hamad during the inauguration ceremony has been planning to shift some of his cultural investments from Dubai to Bahrain. Such measures are expected to bring the Kingdom to the same level of attractiveness as in its glory days before the 1960's. The second reason is related to the unrest that has been rocking this kingdom.  For some time now, the majority Shi'ite population has been demanding more representation in the government that has been ran by minority Sunni elite. Violence has become part of the way discontent is being voiced in the country.
The government hopes that a small distraction such as the opening of this theatre might bring "people close" by "embodying the dream of every citizen" as said by culture minister Sheikha Mai bint Mohammed al-Khalifa.