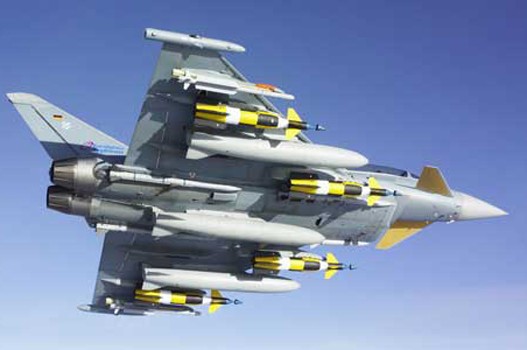 Britain's Prime Minister David Cameron two-day visit in the United Arab Emirates which concentrated on ways of boosting economic ties, with special emphasis on the defense industry as it could be remarked in their released joint statement has come to an end. In the statement, both countries agreed that they would "work together to deepen their defense ties" for the "security of the UAE and wider Gulf region".
Among other deals concluded between the two governments is increasing British troops, joint military and training exercises in the Gulf state. The establishment of an industrial defense partnership that involves close collaboration around Typhoon fighter jets and a number of new technologies was also agreed upon.
The statement also underlined the UAE will invest in the British military presence in the country without giving further details. London says the UAE is very interested in ordering up to 60 Typhoon Eurofighters to replace its ageing French Mirages.
Prime Minister Cameron praised his ally and said he had "absolutely no apologies" going to the gulf and talk "about defense partnerships because their security is important for our security." He referred to the Emirates and Saudi Arabia as "friends."
UAE and Iran are involved in a dispute over three islands in the strait between them. The emirates want to privilege a diplomatic approach to the situation but Iran is not ruling out military action.
Therefore, it seems as if the UAE has gone a campaign on concluding military partnership and arming itself as pentagon recently stated that the Emirates have requested to  have two Terminal High Altitude Area Defense (THAAD) fire units, 12 launchers and 150 interceptors, as well as radar units, other equipment, spare parts and training, all worth an estimated $6.5 billion.