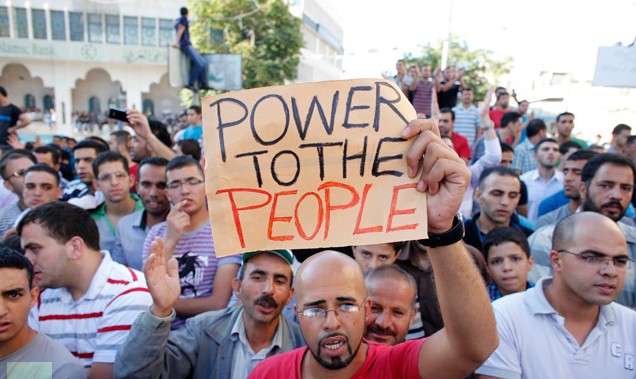 The West Bank has been rocked for several days by protests and demonstrations against the harsh living conditions endured by Palestinians who can no longer cope with rising prices and economic hardships that were worsened by the austerity measures introduced by Palestinian Prime Minister Salam Fayyad.
The weeklong protest movement turned Monday into a riot against the Palestinian Authority and Premier Fayad. In Hebron, Ramallah, Bethlehem, Nablus and in other cities thousands of angry young protesters took to the streets and started attacking government buildings and vehicles and throwing stones at security agents before they were dispersed by tear gas in some cities.
The protesters, inspired by the slogans of the Arab Spring revolts that shook the region and led to the fall of regimes in Tunisia, Egypt and Libya, called for ousting president of the Palestinian  Authority   Mahmoud Abbas and his Prime Minister and denounced corruption and mismanagement which they hold responsible for repressing Palestinians' living standards.
Commentators say the Palestinians' uprising was predictable and expected because of the economic situation in the Palestinian territories, the high unemployment rate that nears 19 percent among the overall active population and jumps to 28 percent among the youths, and the rising prices of food and fuel.
The Strict Israeli control over the movement of people and goods imposed after the outbreak of the second Palestinian uprising in 2000, has constrained economic growth in the West Bank, according to international bodies like the United Nations.  In Gaza, Israeli restrictions on trade, fishing and travel make people feel they are in prison.
A report issued end of August by the United Nations mission in Gaza depicted a gloomy picture of the area and questioned whether this area will be "a livable place" in 2020. The report cited shortages of food, water, electricity, jobs, hospital beds and classrooms amid an exploding population in what is already one of the most densely populated spots in the world.
The report underlined that despite some economic opportunities, the situation is worse now than in the 1990s and is due to deteriorate further as the population surges to 2.1 million over the next eight years.
Whatever the reasons for the Palestinian territories' economic woes, there is little doubt that the Palestinians are suffering and that the Arab Spring in a change-hungry region is kindling their hopes for a better future.