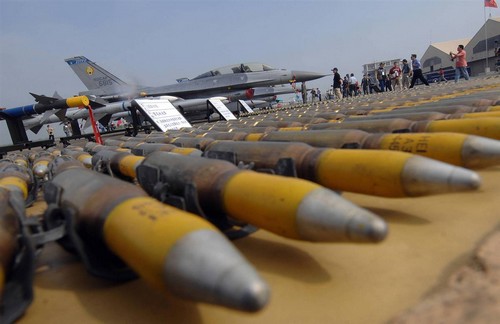 Worldwide weapons sales by the United States in 2011 hit a record high totaling $66.3 billion, making the U.S. responsible for more than three-quarters of the global worldwide weapon sales that nearly doubled to $85.3 billion, according to a new study prepared for the Congress.
As U.S. arms sales to both developed and developing nations soared, the increase was mainly driven by sales to Middle Eastern nations amid increasing concern about Iran's threats, the report said.
Increasing tensions with Iran drove a set of Gulf nations, mainly Saudi Arabia, the United Arab Emirates and Oman, to purchase US weapons at record levels, the report said.
According to the report that was prepared by the nonpartisan Congressional Research Service, a division of the Library of Congress, the U.S. worked out policy goal with Arab allies in the Gulf to build a regional missile defense system to protect cities, oil refineries, pipelines and military bases from possible Iranian military attack.
The effort has included deploying radars to increase the range of early warning coverage across the Arab Gulf, as well as introducing command, control and communications systems that could exchange that information with new batteries of missile interceptors sold to the individual nations.
The missile shield in the Gulf is being built on a country-by-country basis, with these costly arms sales negotiated bilaterally between the United States and individual nations.
Saudi Arabia alone purchased 84 advanced F-15 fighters, accounting for a $30 billion bill. Sales to the Saudi kingdom last year also included a variety of ammunition, missiles and logistics support, and upgrades of 70 of the F-15 fighters in the current Saudi fleet. The sales also included dozens of Apache and Black Hawk helicopters, all contributing to a total Saudi weapons deal from the United States of $33.4 billion, the study outlined.
The United Arab Emirates purchased a Terminal High Altitude Area Defense and an advanced anti-missile shield including radars, which were valued at $3.49 billion, as well as 16 Chinook helicopters for $939 million. Oman bought 18 F-16 fighter aircraft for $1.4 billion.
The American weapons sales totaled $21.4 billion in 2010 and nearly $31 billion in 2009, the study recalled.
According to the congressional study, Russia came in a distant second rank, with deals totaling $4.8 billion in 2011.