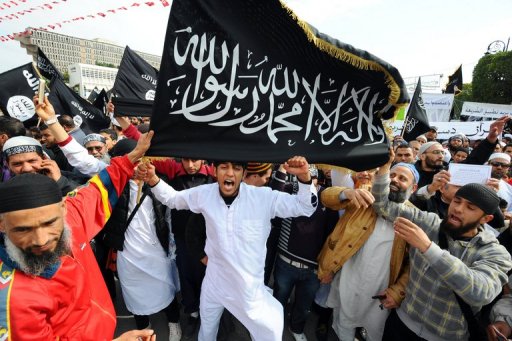 Tunisians who ignited the Arab spring were hoping to improve their living conditions, economically, and to enlarge the scope of their freedoms. The hopes and dreams seem too far away as debate grows over the role of religion in the Tunisian fragile democracy and as the moderate Islamist-led government is facing increasing challenges from religious extremists.
The poor living conditions, including high youth unemployment, that were a driving factor behind the revolution, have not changed and the government failed to improve people's social situation.
As to larger freedoms, it rather seems that the government is becoming increasingly authoritarian and proved unable to restraint the Salafists who adhere to a strict interpretation of Islam and who succeeded in disrupting a string of cultural events that they deem contrary to Islam and to Islamic values.
These hard-line Islamists have actually pressured the organizers of several cultural festivals and arts exhibitions to cancel these events claiming they were un-Islamic and contrary to sacred Muslim values.
Even the Tunisian athletes who participated in the London Olympics and gleaned medals were not spared. Tunisian swimmer Oussama Mellouli who won the gold medal in the men's 10 kilometer open water swim and the bronze one in the 1500 m freestyle was pilloried for drinking juice before racing during the Muslim holy month of Ramadan.
Habiba Ghribi, who won the silver in the 3,000-meter steeplechase, was also targeted by radicals because her running gear was, according to them, too revealing. They even called on the government to strip the athlete of her nationality.
Artists, civil society and human rights activists and some media are seriously concerned about the situation and do not hesitate to accuse the Islamist party Ennahda, which leads the ruling tripartite coalition, of complicity with the Salafists who are trying to impose their own rules and laws.
The activists are dismayed by what they describe as the laxity of the government when freedoms of expression and cultural rights are being seriously threatened.
Several NGOs have accused Ennahda of seeking to reintroduce rights and liberties repressive laws, to impose additional, tougher restrictions on freedom of expression and to move Tunisia backwards after the decades of progress which placed it in the avant-garde of Arab countries in matters of liberties.
A recently tabled draft law pertaining to blasphemy and desecration of the symbols of religion provides for imprisonment sentences for individuals found guilty of mocking or insulting the sanctity of religion.
Such a law might stigmatize artists, creators, journalists and human rights activists who would be at the mercy of a freedom-annihilating text, NGOs, including Human Rights Watch, argue.
The recent licensing of the Salafist party Jabhat al-Islah in Tunisia was another reason of concern for Tunisian opposition and activists who fear that such official representation of the religiously ultraconservative party might strengthen the Salafist movement and jeopardize thus Tunisia's democratic transition.