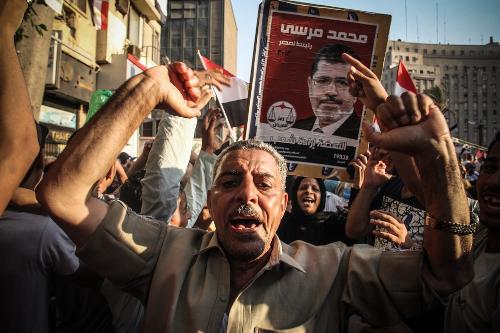 Strikes in the textile industry have paralyzed Egypt's production as the country's economy still struggles to recover from the post revolution era. Laborers at the Misr Spinning and Weaving have been joined by other employees from different textile industries amongst which the latest are employees at El-Nasr for Spinning and Weaving, Tanta for Spinning, Kafr el Dawar and Samannood Wool Weavers as the sit-in strike enters its fifth day on Friday. Hamdy Hussein, a labor activist, has estimated the number to be at almost 50,000.
The situation is considered to be the first social test of the new government. One of the employees on strike warned that "the coming revolution will correct the path of the first one. It will be a labor revolution. Workers sparked the first revolution, (and) then it was stolen from them." Although some don't want it to take a political turn, others said they "are waiting for the Minister of Industry to come as promised" hinting that their strikes will be adjusted to another level if their demands are not heeded to; citing that railways could be cut.
The general demands forwarded by the strikers are a pay rise, a share in the company's profits and the implementation of social justice in the industries. They have asked for negotiations to begin although government officials have not officially spoken about the matter, some members of the Muslim Brotherhood when and listened to what they have to say.
According to Al-Masry Al-Youm,  Major General Mohamed Yousef, a minister-commissioner to the business sector, said the ministry sent a check worth EGP 65 million to the central bank to pay the dues of about 63,000 workers, among which are the Mahalla workers.